Captain Johnny Walker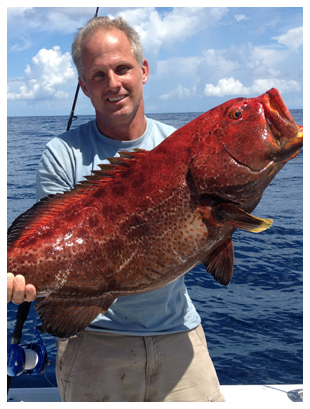 Captain Johnny Walker runs Blue Water fishing charters on the "Katana". Not only do we fish for a variety of Texas species, we have well-established reputations as one of the best offshore fishing guide services in the fleet. We fish for red snapper, kingfish, dorado, ling, amberjack, billfish, tuna, and wahoo.
Captain Walker is a United States Coast Guard™ licensed Captain for recreational and commercial fishing. He specializes in red snapper fishing and is available to captain your sport fishing vessel for tournaments or weekday and weekend trips. Captain Walker may even help you refine your skills with instruction. His expertise and guidance are notable, and he enjoys working with others in the sport he loves.
Biography
Johnny Walker has been a licensed charter boat captain since 1989. In addition he has been a commercial fisherman since 2000 and is very experienced in the waters of the Gulf of Mexico off the coast of Galveston, TX. He is an IFQ shareholder for Red Snapper, Grouper and various other common Reef Fish in the Gulf waters. He is also licensed for Tuna's and sword fish. Johnny has been married for over 30 years and has a family of 3 daughters and 1 son. Prior to running our current fishing business, we owned and operated a diesel repair shop in Houston, Texas. In 2012, Johnny designed his newest vessel, the 57′ Blackwell custom boat after years of operating both the 36' and 42' center consoles. This boat has the combination of speed and efficiency, center console design, and accommodations for sleeping, shower/bathroom and kitchenette for overnight and commercial trips. This vessel is also equipped with a forward underground ice hole and live-well on rear of the boat, for any "large catch" trips. We look forward to giving you an offshore experience you will enjoy and remember for years to come.
Contact Us Today!